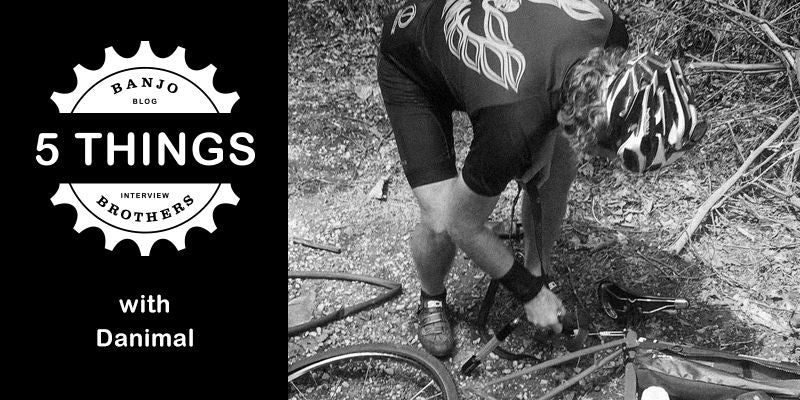 FIVE THINGS WITH BIKE INDUSTRY OUTLAW DANIMAL
WARNING:This blog post contains explicit language.
FIVE THINGS is a weekly feature on the Banjo Brothers Blog. It's a short interview about life and bicycles with a notable person. This week's FIVE THINGS is with bicycle industry outlaw the Danimal. We met the DM in 2012 when he still lived in "Nash-Vegas" as he called it, and was making a buck running bike shops. Danimal is many things. He's a fine writer, an entrepreneur, Tour Divide finisher, bicycle commuter, whiz bicycle mechanic, race promoter, bikepacker, mentor, role model, reading advocate, and a beach-loving, rye-whiskey drinking sonofagun. His most defining characteristic though, is bottled and sold in one word, passion. You'll get a whole heapin' helpin' of unvarnished opinions and passion in this week's FIVE THINGS.
BANJO BROS: WHAT ARE YOU RIDING?
DM: Surly Steamroller on rollers because I leave for work when it's dark.  When I get home it's dark. And when it's dark it's 20 degrees and I am no longer that tough because I am getting old. I ride a Kawasaki to work, so there's that. When I can at least start when the sun is up I'm on Cross Check until Simon Firth finishes my Hanford. On dirt, it's either my 650b Soulcraft or Krampus depending on my mood, which is rather Jekyll and Hyde. They're all rigid single speeds because I don't like working on my bikes. I like riding them.

BANJO BROS: WHERE ARE YOU RIDING?
DM: South Eastern PA dodging horse and buggies to get to the gravel roads.  That or East Coast singletrack  #eastcoastrocks.
What is currently pissing me off is all this media and advertising and marketing bullshit that you need a certain bike or style or gear or whatever to have fun.

Like, you literally need to buy fun.

It's just so stupid.

 
BANJO BROS: WHAT LISTENING TO?
DM: Slayer. Clutch. Stevie Wonder. Voivod.
BANJO BROS: WHAT ARE YOU COOKING/EATING/DRINKING?
DM: As I type this I'm drinking Rye Whiskey and munching farm aged white cheddar, summer sausage, and bakery bread. I live in Amish Country, the food is awesome and the booze is imported.
BANJO BROS: WHAT'S STUCK IN YOUR CRAW?
DM: You know me well enough to know better than to risk asking this question. What is currently pissing me off is all this media and advertising and marketing bullshit that you need a certain bike or style or gear or whatever to have fun. Like, you literally need to buy fun. It's just so stupid.

How about just go have fun?!  Ride your bike, go for a walk, play Dungeons and Dragons, drop acid, whatever. Just go have fun with whatever allows you to have fun. Remember when we were kids and we would just jump on bikes and ride all over town, jumping curbs, eating ice cream not caring about anything other than spending the day having fun?  Why, now that we have "grown up", are we forced to take fun so seriously?  
We didn't need some special jacket or phone app or selfie (DO NOT get me started on selfies). Nope, we just went on our merry way and had a damn fine time. So yeah, that's what's got my goat. That's why I'm so stoked on the Klunker scene, but it's just a matter of time until Specialized makes one and then it's ruined. That and E-bikes.The industry push for E-Bikes could not be more in the wrong direction.  E-bikes are for the disabled, people who for some physical issue are not able to enjoy riding a bicycle through self propulsion and  not some slightly overweight, middle aged wannabe draped in the latest fashion who is too much of a candy ass to earn his descent.  Which goes right back to my previous statement: all this stupid marketing (i.e. pro-downhillers raging on electric mopeds.) It's stupid and the industry should be ashamed.
MORE ABOUT THE FIVE THINGS INTERVIEWS FROM BANJO BROTHERS
A big Banjo Bros. thank you to the Danimal for participating in this week's edition of Banjo Brothers' Five Things. These short interviews about life and bicycles will appear every Friday on the Banjo Brothers Blog. If you liked this FIVE THINGS from Banjo Brothers you should check our our full series of past five things interviews.
Would you like to be interviewed for Five Things?
Use the contact form on our website to send us a note. See you next Friday. Also, since you're here, we do need to mention, Banjo Brothers makes a whole line of tough, practical and affordable gear for cyclists.  Thanks for reading.