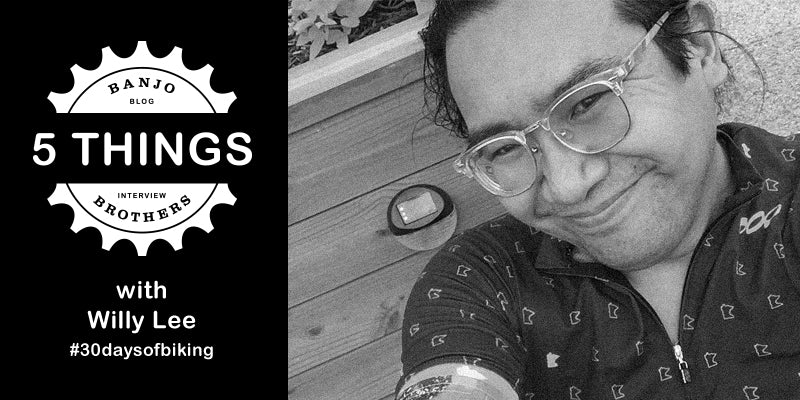 FIVE THINGS WITH CYCLIST AND #30DAYSOFBIKING SUPPORTER WILLY LEE
FIVE THINGS is a feature on the Banjo Brothers Blog. It's a short interview about life and bicycles with a notable person. This week's notable person is Willy Lee.
Willy is late-bloomer when it comes to bikes, learning to ride a bike when he was 26. Proximity to bike paths has changed his life.
"My wife and I bought a house on the chain of lakes and she said, we are not living on these great bike paths and not riding them, so she dragged me to a couple of bike shops and made me buy a bike. LOL, the joke's on her. I now own 11.5 bikes (one is a unicycle.) I worked weekends at a shop for a few years, and have really fallen into a big bike family"

Willy is also a #30daysofbiking diehard and he thinks you should totally join the herd this April.
Lee says about the #30daysofbiking program, "There's no prize. It's just a time to get out there and encourage people to ride every day. It's been a fabulously supportive and joyful community and it's one of my favorite things out there."
We hope you enjoy this week's Banjo Brothers Five Things.
BANJO BROS: WHAT ARE YOU RIDING?
WL: It's winter in Minnesota, so my main ride is a Surly Bridge Club in the pretty blue color. I've got it set up with a generator hub and super bright light. Can I just say how much I love good generator lights? They have a shaped beam, so the light goes on the road and not in other people's eyes. You can't run out of battery, so I spend approximately no mental energy thinking about how much charge my light has. I even have a rear light hooked up to it too. It's a spendy add on to a bike, but even with all the fun bike stuff I have, it's sure cheaper than being a two car family.

In the warmer months, I vary my bikes a lot more. I commute on a cyclocross bike with a generator setup or a road bike I've converted into a single speed. I keep meaning to try mountain biking, but dry trails didn't really line up with free time last summer.

BANJO BROS: WHERE ARE YOU RIDING?

WL: My favorite ride is my commute. My last job was 42 miles away and not practical to ride to. Who's got that kind of time? This job is a whole 4.5 miles away if I take the Light Rail Trail and I can make it longer if I take River Road instead. I mean, how many people can say they have two great bike pathways to work?

I love the commute because it swaps something I have to do with something that's fun to do. The bus or light rail are easy ways to get to work as well, so when the weather is terrible or I'm just not feeling my best, I don't have to force myself and start to resent it. That's huge for me. I rent a bike locker on campus and our office has a shower room. It's a great setup for me. Sure, some people ride in without getting sweaty, but I'm not one of those people. I commute in bike clothes and carry a change of clothes and my lunch in my backpack pannier.

Generator Lights are a spendy add on to a

bike

, but even with all the fun bike stuff I have, it's sure cheaper than being a two car family.
BANJO BROS: WHAT ARE YOU LISTENING TO, READING OR WATCHING? 
WL: OK, there's a lot of people talking about how much social media is ruining the world, and how they need to do extraordinary things to go on phone detoxes, but I have to say, I love it. Sure, my feed is where I see a lot of the terrible things going on in this world, but it's also where I can congratulate friends when things go their way and console them when they don't. I can kick around an idea for engineering a way to use a drone to salt your ice dams. I can share recipes and advice. I'm on Twitter, Facebook, and Instagram, and I use them all many times a day.
BANJO BROS: WHAT ARE YOU COOKING, EATING/DRINKING?
WL: I love cooking. I grew up cooking for the house while my parents were running a Chinese restaurant. Every year, we throw this giant open house for Chinese New Year and nearly a hundred people swing by for some food. It's an absolute blast. Our first one was in 2000, so we are just about to hit the 20th!

Anyways, so you know how people with Instant Pots rave about them? I was super skeptical and thought it would be like the bread machines we were all buying twenty years ago. Well, I cooked with one with a friend a while back and kinda loved it. My favorite recipe right now is this butter chicken. It's really great. I double the meat without adjusting the cook time and it's great. I also stir in a bunch of frozen peas right after blending the sauce to cool it and to add more veggies. We serve it with premade naan that fits in our toaster.

BANJO BROS: WHAT'S STUCK IN YOUR CRAW?
WL: What's stuck in my craw? Haters. I mean, there are things in this world you have to take a stand on, but I try to keep those two big things like the police state, racism, homophobia, and transphobia. What I don't get is people who have to spend time and energy tearing down things other people like. What's it matter if I put ketchup on my hot dog? Does my love for Beyoncé mean there's less love to go around and you can't love Macklemore? Is your life uplifted by bringing people down? Sounds like you need more therapy. (Side note: we all need more therapy.)
It's life changing and really useful. I've benefitted and I believe we could all use the intentional time to get better at knowing our feelings, improving our communication skills, and really getting at what is going on with ourselves.)
MORE ABOUT THE FIVE THINGS INTERVIEWS FROM BANJO BROTHERS
A big Banjo Brothers thank you to Willy Lee for participating in this week's edition of Five Things. These short interviews about life and bicycles will appear every Friday on the Banjo Brothers Blog. If you liked this FIVE THINGS from Banjo Brothers you should check our full series of past five things interviews.
WOULD YOU LIKE TO BE INTERVIEWED FOR FIVE THINGS?
Use the contact form on our website to send us a note. See you next Friday. Also, since you're here, we do need to mention, Banjo Brothers make a whole line of tough, practical and affordable gear for cyclists.  Thanks for reading.