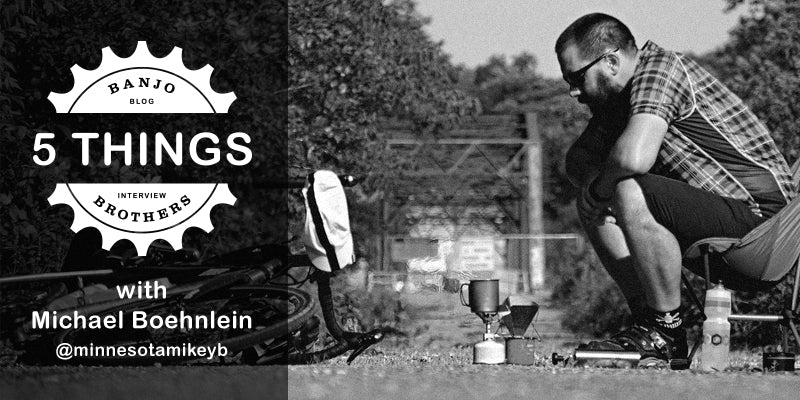 FIVE THINGS WITH CYCLIST MICHAEL BOEHNLEIN, @MinnesotaMikeyB
FIVE THINGS is a feature on the Banjo Brothers Blog. It's a short interview about life and bicycles with a notable person. This week's notable person is cyclist Michael Boehnlein. (The last name is pronounced Bane-Line).
It's hard to look away from Boehnlein's adventure-filled Instagram so we reached out to see if we could learn more about Mike and asked if he'd take a crack at our Five Thing Series. The "rad dad" is a father of two with the keen eye for vintage camping gear and photography, an EDI guru for Best Buy and is married to his High School sweetheart. In your face Milwaukee!

We hope you enjoy this week's Banjo Brothers Five Things.
BANJO BROS: WHAT ARE YOU RIDING?
MB: Spring is finally here. Our record Feb snowfall is melting. Time to put the fat bike away and get my 2013 Salsa Ti Warbird ready for some road and gravel miles. My Warbird has been my favorite bike of all time. It works great for commuting to work, going on paved trails around the lakes, or hitting up long distance rides. It's my swiss army bike. Other bikes in the stable, 2015 Salsa Blackborow and a 2014 Salsa El Mariachi.


BANJO BROS: WHERE ARE YOU RIDING?

MB: My favorite ride this summer will be dropping my two daughters off at Little Bellas in Lakeville, MN. My oldest (9) daughter loved the program last year so I also signed my youngest (8) up with her sister this year. I'm excited to watch their confidence grow week to week with this amazing group of young women and mentors.
 Life can get pretty busy, especially with kids, at times and it feels great to slow life down with a ride, coffee, and a friendly conversation. My favorite brewing setup that fits well into a frame bag is a Snow Peak LiteMax stove, Snow Peak Ti-Mini Solo (the bottom 500ml pot), Snow Peak coffee drip and some Fika Coffee beans. 
As for where I'm riding, my favorite destinations are the ones that involve coffee and friends.

Pick a destination, typically a park or somewhere with a good vibe and go. Bring your own beans and equipment and brew a cup of coffee.
BANJO BROS: WHAT ARE YOU LISTENING TO, READING OR WATCHING? 
MB: Grandson has been on heavy rotation in my Spotify playlist. I've also been getting my honky-tonk on with Luke Bell and The Country Side Of Harmonica Sam.
I recently watched Free Solo, the documentary about Alex Honnold free climbing El Capitan. Make sure you take your blood pressure pill and your anti-anxiety meds because you will be in the fetal position while watching the climb. My palms are still sweating. Underlying to the climbing of El Capitan, I found it interesting how Alex's upbringing and lack of affection as a child made him unemotional and distant as an adult. He talks about how he had to learn how to hug as an adult. It really makes you think, as a parent, what am I instilling in my children.
BANJO BROS: WHAT ARE YOU COOKING, EATING/DRINKING?
MB: I've been really enjoying Blackstack Brewing's line-up. Local 755 is one of my favorite all time beers. It's a NE IPA that's super juicy and is great on a summer day.
BANJO BROS: WHAT'S STUCK IN YOUR CRAW?
MB: Don't be an a--hole. Treat others how you want to be treated. Don't speed up when the person in the lane next to you turns on their blinker. Hold the door for someone. Give up your seat for someone that needs it more than you. Put the toilet seat down. Please and Thank you!
MORE ABOUT THE FIVE THINGS INTERVIEWS FROM BANJO BROTHERS
A big Banjo Brothers thank you to Michael Boehnlein for participating in this week's edition of Five Things. These short interviews about life and bicycles will appear every Friday on the Banjo Brothers Blog. If you liked this FIVE THINGS from Banjo Brothers you should check our full series of past five things interviews.
WOULD YOU LIKE TO BE INTERVIEWED FOR FIVE THINGS?
Use the contact form on our website to send us a note. See you next Friday. Also, since you're here, we do need to mention, Banjo Brothers make a whole line of tough, practical and affordable gear for cyclists.  Thanks for reading.