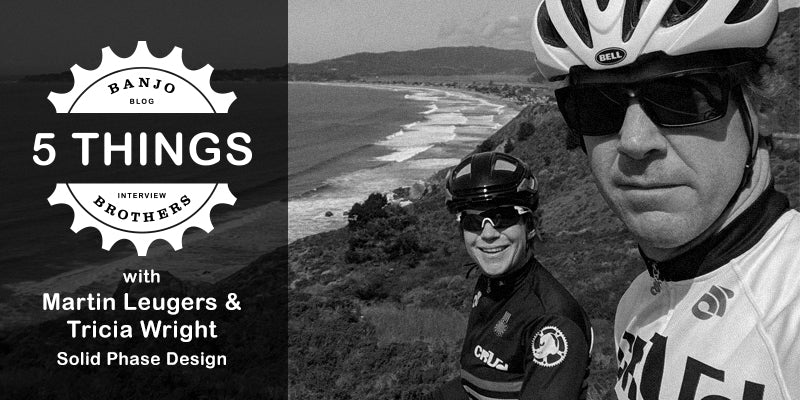 FIVE THINGS WITH MARTIN AND TRICIA OF SOLID PHASE DESIGN
FIVE THINGS is a feature on the Banjo Brothers Blog. These short interviews explore life and bicycles with notable people. We caught up this week with Martin Leugers (yes, it's true, he's one of the 'real'  banjo brothers) and his wife and business partner, Tricia Wright.
Wright and Leugers are industrial designers and the founders of San Francisco-based Solid Phase Design. With a squadron (no exaggeration) of bikes in their garage prepped and at the ready for riding, there are bikes for every task from slow-rolls to fast-rides including sweet loaners for guests and chopper-bikes, a pre-requisite for their founding membership in C.R.U.D., the legendary cabal of "chopper-riding-urban-dwellers."
 We hope you enjoy this week's Five Things.
BANJO BROS: WHAT ARE YOU RIDING?
M&T: We have a pretty good fleet of bikes in various states of working, but I am most often riding my vintage mountain bike townie, a Univega Alpina Ultima. Tricia is usually on her customized Bianchi. We made a pair of handlebars with an integrated headlight in them, brazed custom fender mounts and converted it to 650B wheels. Our road bikes or tandem are used for longer weekend trips, and choppers for shorter, beery cruises around town. 
BANJO BROS: WHERE ARE YOU RIDING?

M&T: We ride in the city as our default mode of transportation. On weekends we usually end up riding road bikes over the Gate Gate Bridge to Marin and Sonoma to escape the fog. One of our favorite spring rides is to head up the gravel climb of Mt. Tam before the summer heat kicks in.


Our road bikes or tandem are used for longer weekend trips, and choppers for

shorter, beery cruises around town. 




BANJO BROS: WHAT ARE YOU LISTENING TO, READING OR WATCHING? 
M&T: We listen to a combination of our own music collection, and streaming stations as long as they have real human DJs. For radio, we switch between Radio K, KPOO, KALX, OPB, and WFMU depending on who's playing the best polka or punk rock. KPOO is an excellent community station about 50 feet away from our house, so it gets some preferential standing.


BANJO BROS: WHAT ARE YOU COOKING, EATING/DRINKING?
M&T: We are currently drinking a Belgian Dubbel that we brewed a couple of months ago. It's delicious.

BANJO BROS: WHAT'S STUCK IN YOUR CRAW?
M&T: As Industrial Designers we are always considering the impact our designs have on the environment and how they affect our future. It's no small feat to design a product that is both sustainable and satisfies our customer's needs, but we try. To quote Yvon Chouinard, "To do something good, you actually have to do something".

MORE ABOUT THE FIVE THINGS INTERVIEWS FROM BANJO BROTHERS
A big Banjo Brothers thank you to  Martin and Tricia for participating in this week's edition of Five Things. These short interviews about life and bicycles will appear Fridays on the Banjo Brothers Blog. If you liked this FIVE THINGS from Banjo Brothers you should check our full series of past five things interviews.
WOULD YOU LIKE TO BE INTERVIEWED FOR FIVE THINGS?
Use the contact form on our website to send us a note. See you next Friday. Also, since you're here, we do need to mention, Banjo Brothers make a whole line of tough, practical and affordable gear for cyclists.  Thanks for reading.