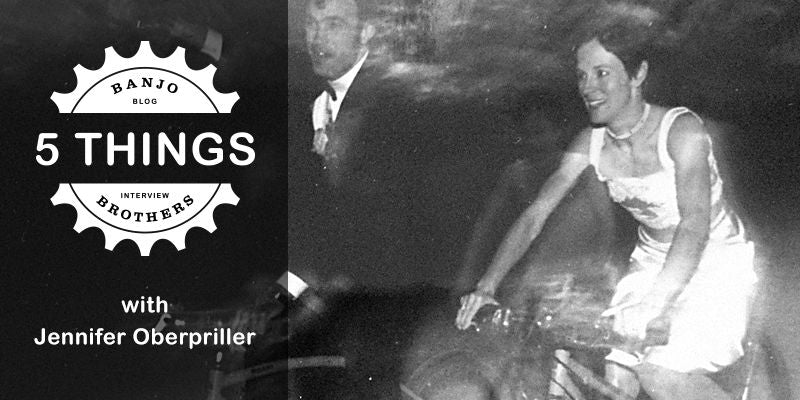 FIVE THINGS WITH ONE ON ONE BICYCLE STUDIO CO-FOUNDER JEN OBERPRILLER
FIVE THINGS is a weekly feature on the Banjo Brothers Blog. It's a short interview about life and bicycles with a notable person. This week's FIVE THINGS is with Jennifer Oberpriller, co-founder and co-owner of One on One Bicycle Studio in Minneapolis. For those not immersed in the scene, One on One was, and arguably still is, 'the straw that stirs the drink' when it comes to the evolution of the bike shop into a cultural centerpiece of the city. The downtown Minneapolis shop, powered by Jennifer and husband Gene, was an early innovator, brining gallery shows into the shop, combining bikes and coffee, and just generally being ahead of the curve in the bikes as lifestyle trend. A former pro mountain bike racer, the mom of three stays plenty busy and has an impressive stable of bikes to power her and the kids around town. We hope you enjoy this week's FIVE THINGS.  
BANJO BROS: WHAT ARE YOU RIDING?
JO: 46cm 1998 Bianchi Marco Pantani replica, Surly LHT, XtraCycle Radish, Surly Cross Check. Custom Soulcraft Plowboy SS, Bianchi BOSS, Kona Humahuma, all single speed dirt bikes. Just recently I got an amazing Juliana Furtado 130mm travel trail bike. Last winter I rode my first fat bike, Specialized Fatboy 24. FUN! If you can, get a few different bikes in your quiver. Always cheaper than a car, always ready to go, mostly.
Life is super crazy when you're running your own business, raising three kids, caring for two dogs, three cats and a spouse, so I cherish every opportunity I get to ride.
BANJO BROS: WHERE ARE YOU RIDING?
JO: All over the city. My kids to school. The river. Our shop. Patisserie 46. Moon Palace Books. Riverview Theater. Element Boxing Gym. Aside from the short weekly rides, I get in long rides most every weekend with my friend Katie. We ride and then detour off to explore the great neighborhood cafes and bakeries. Life is super crazy when you're running your own business, raising three kids, caring for two dogs, three cats and a spouse, so I cherish every opportunity I get to ride.
BANJO BROS: WHAT ARE YOU WATCHING/READING/LISTENING TO?
JO:  I love going to movies. My most recent favorites were Wonder Woman (Gal Gadot kicks ass), Captain Fantastic and The Zookeeper's Wife. Chef's Table and Anthony Bourdain's Parts Unknown on Netflix. I've been reading Brene Brown's "Daring Greatly" and Dylan Tomine's "Closer to the Ground". Podcasts: This American Life, Modern Love, Wait Wait Don't Tell Me and Terrible Thanks for Asking.
BANJO BROS: WHAT ARE YOU COOKING/EATING/DRINKING?
JO: Root vegetables. Greens. If it's a noodle or a green I'm cooking it. We've had a farm share for the past 15 years which makes you stay creative in your cooking. Eating? Neapolitan pizza. Ramen. Cheese. Crusty bread. Olives. Everything spicy. Dark chocolate of course. Drinking? Every morning, French roast. Yeah, I know it's not "cool" to drink dark roast but f*!k light roast. Gin. Vikre and Far North Spirits distill world class gin in our own backyard. They're the best and my favorite. Red wine, of course.
BANJO BROS: WHAT'S STUCK IN YOUR CRAW?
JO: Oh that's a big one! Where should I start? The healthcare industrial complex. Big pharma. Huge multinationals. Wall Street and banks that are too big to fail. None of them care about our neighbors or our communities. Double digits to them. What can we do about it? Take control of our own health and well being. Buy local. Invest in our communities. Head to the North Shore! I feel we have the one of the greatest natural resources in the Great Lakes region and our state parks and forest systems are second to none. We make the trek North in every season. Camping. Hiking. Riding. Exploring. Walking dogs. It is one of the things that replenishes my soul...that and a punching bag.
MORE ABOUT THE FIVE THINGS INTERVIEWS FROM BANJO BROTHERS
A big Banjo Bros. thank you to Jennifer Oberpriller for participating in this week's edition of Banjo Brothers' Five Things. These short interviews about life and bicycles will appear every Friday on the Banjo Brothers Blog. If you liked this FIVE THINGS from Banjo Brothers you should check our our full series of past five things interviews.
Would you like to be interviewed for Five Things?
Use the contact form on our website to send us a note. See you next Friday.
PS: In case you're wondering, this is the other half of the One on One Dynamic Duo.