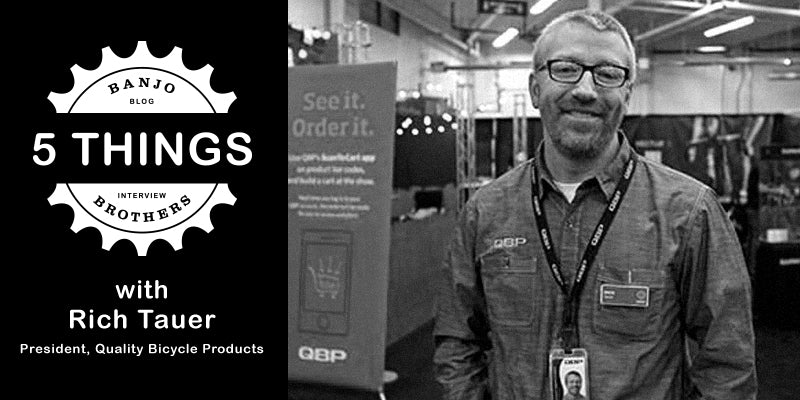 FIVE THINGS WITH QBP PRESIDENT AND CYCLIST RICH TAUER
FIVE THINGS is a weekly feature on the Banjo Brothers Blog. It's a short interview about life and bicycles with a notable person. This week's FIVE THINGS is with Rich Tauer, the president of Quality Bicycle Products (QBP.)
Rich Tauer is a bike guy. With a dozen or so in his personal fleet -- commuter bikes, road bikes, gravel bikes, tandems, fat bikes and a sturdy commitment to swap out a few each year, he's got the tools for a ride anytime and anywhere. For nearly a decade he managed to crack Quality's Top-10 bike commuters, meaning at the time, he was riding his bike to work 95% of the time. It's an impressive feat considering the competition and commitment required.
The humble fifty-something (He wrote back to Banjo Brothers when we asked him if he'd be a part of this feature that he thought he might be too boring. We disagreed.) has spent nearly thirty years working at the industry's largest wholesale distributor of bicycles, parts and accessories. Quality is known for distributing some of the bike industry's most prolific brands and also purchased or has developed some of the industry's most iconic brands from scratch, including Surly Bicycles, All-City and Salsa.
Tauer's bike industry career started with stints at two Twin Cities' legendary bike shops Now Bikes and Penn Cycle. Tauer left the bike shop life and landed at QBP in the customer service department. He worked his way steadily up the ladder and now holds the top gig, taking over as president from founder Steve Flagg in October 2015.
Tauer presides over the company at a challenging and volatile time in his industry. The brick and mortar retail business is in flux with changing consumer habits and aggressive online retailers upending more traditional business models. The independent local bike dealers Quality serves are finding they need to adapt to the new market conditions in order to compete effectively. QBP under Tauer's leadership is trying to calm the roiling waters for his customers, fighting battles on several fronts to keep the bicycle industry and local independent bike shops healthy.
Programs like Quality's Community Grant Initiative supports bike shop-led projects to get more people on bikes from under served populations, more kids on bikes and more investments in bicycle infrastructure. QBP  also expanded its women's internship and  bike mechanic scholarship program, launching an  "Equity and Diversity Internship for anyone committed to advancing issues of diversity, equity, and inclusion. These topics and Rich's quest to stay on top of the changing retail world are, shall we say, less than boring.
Enjoy this week's Banjo Brothers Five Things.
BANJO BROS: WHAT ARE YOU RIDING?
RT: I have a couple of bikes that I am riding right now. I commute year round, and the bike I have been commuting on this winter is an All-City Nature Boy that I put flat bars on for stability in snow and ice. For weekend riding, I am a fan of fatties (fatbikes) with lots of winter trail riding. For that, I am riding a Salsa Beargrease, all blacked out. Love it. Now that we are finally losing our snow, I will switch over to my new single speed mountain bike, an All-City Log Lady for my trail riding. I have decided to try something different this year, and do Lutsen 99'er on a single this year.
BANJO BROS: WHERE ARE YOU RIDING?
RT: I love riding fat in the winter. My favorite place is the Hayward/Cable area in northwest Wisconsin. The CAMBA (Chequamegon Area Mountain Bike Association) folks do a great job grooming more than 40 miles of winter trails. We ride up there as often as possible with a bunch of friends. Big Fat Loop is my favorite of the bunch, with Bloody Mary's and beer chaser at Sawmill Saloon afterwards. That is the way to end a winter fatbike ride.
BANJO BROS: WHAT ARE YOU READING/LISTENING TO?
RT: My tastes are pretty pedestrian. I am a newsie and listen to KNOW public radio. I also listen to a fair amount of podcasts, TED Talks, and business talks that are mostly related to the changes to the retail environment I face in my role. I am constantly thinking about what is occurring with bike retailers and our suppliers, and trying to be sure we are prepared for the changes, to learn and be able to assist and help our customers succeed in this new retail environment. Most recently I am listening to Shift-Up Podcast by Bike Shop Girl in Denver, and recently I was turned on to OmniTalk and Channel Mastery podcasts. I also listen to Destalks, particularly Simon Sinek. There are a lot of smart people out there, may as well listen and learn from them 
The Chequamegon Area Mountain Bike Association folks do a great job grooming more than 40 miles of winter trails. We ride up there as often as possible with a bunch of friends.

Big Fat Loop is my favorite of the bunch, with Bloody Mary's and beer chaser at Sawmill Saloon afterwards.

That is the way to end a winter fatbike ride.
BANJO BROS: WHAT ARE YOU EATING/DRINKING?
RT: I am bipolar when it comes to eating. I eat healthy most of the time, then I switch and can do fast food, and love it. I am a pretty good cook, and am trying to stay close to the Whole 30 principals. Then I fall off, and want to have a huge burger and fries, or a pizza.  
BANJO BROS: WHAT'S STUCK IN YOUR CRAW?
RT: Wow, this is a big question. I have a couple things that really bug me. First is the lack of leadership in politics. This is not a right or left thing, just a big gap in people leading in most all levels of politics. It feels more like it is best to make the other side lose than it does to do what you believe is best and will help others. I hate that. My second area that is stuck in my craw is much closer to bikes, and the bike industry. That being the way that people see retailers, particularly bike shops. When a consumer sees and buys products at ridiculously low prices online, then brag about it to a retailer, and ask them to give them a deal on labor to install it. Or showroom products, getting sized and fit for shoes, clothing, bikes or whatever, then go and buy the item(s) online. It bugs me because the very fact that the retailer exists and has space and staff, means that they need customers to pay for those services. If you want to buy online, then do not expect free services at a retailer. I recognize that consumers want to buy in many different ways, that is their choice and I respect that. But I want people to recognize that what they do, and how they buy has a profound effect on that retailer down the street. And if they value the retailer, because they do rides, put on events, teach you things, then spend time and dollars in their stores, they are the experts and want to serve you as a consumer. My soapbox for the day.
MORE ABOUT THE FIVE THINGS INTERVIEWS FROM BANJO BROTHERS
A big Banjo Brothers thank you to Rich for participating in this week's edition of Banjo Brothers' Five Things.These short interviews about life and bicycles will appear every Friday on the Banjo Brothers Blog. If you liked this FIVE THINGS from Banjo Brothers you should check our our full series of past five things interviews.
WOULD YOU LIKE TO BE INTERVIEWED FOR FIVE THINGS?
Use the contact form on our website to send us a note. See you next Friday. Also, since you're here, we do need to mention, Banjo Brothers makes a whole line of tough, practical and affordable gear for cyclists.  Thanks for reading.