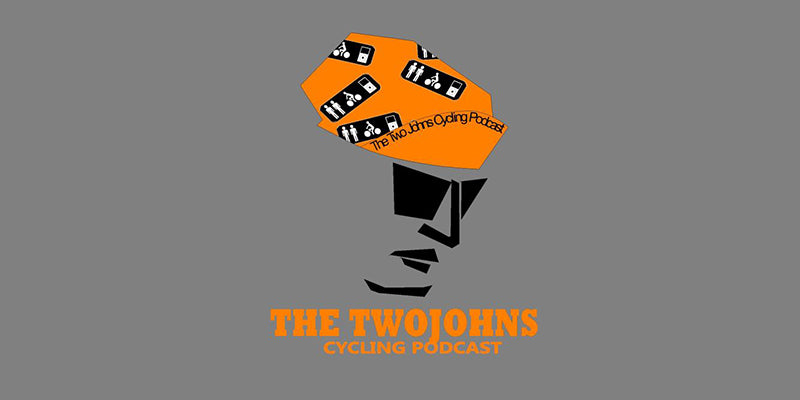 Product Review: Banjo Brothers Large Commuter Backpack - Model #01152
The product review of the Banjo Brothers Large Waterproof Cycling Backpack [#01152] originally appeared on the website for the Two John's Podcast. We have transcribed the audio portion into text.
I ride my bike to work whenever possible. It makes good use of my time & at this time of year, it lets me ride during daylight. On top of that I really enjoy starting & ending my day with some time on the bike, those usually are pretty good days. My typical routine is to pick out my clothes for the office, shoes & everything else, get dressed in cycling clothes, make a little breakfast to take to work, & load up my back pack with all that & my office materials, then it is off to work!
For the last 4 years I have been using one of those Rudy Project back packs they sell for a very friendly price. A nice basic back pack that has seen better days, not the least symptom being that the plastic backing has disintegrated into many tiny particles that swish around like sand between the two layers of fabric making the back of the pack. It was to my pleasure when I was presented the opportunity to review a backpack, the Banjo Brothers Large Commuter Bag.
Here is a photo of it in my typical loading routine in the morning.
The first thing I found a little peculiar, only because I have never used a bag like this, is the closure of the bag which is best described to be like the brown bag my mom used to send with me for grade school lunch. Only this time, that set up is one better because if my brown lunch bag were to get wet, chances were pretty good my ham sandwich would get soggy- not with this bag.
The light colored liner is water proof & removable. The closure is by folding the open top over, like the brown bag and snapping the clip, as shown below. On the outer face of the bag is a zippered pocket, a velcro'd pouch, and three pen slots as well as a large side pocket that will easily fit a newspaper folded in half.
Pictured below is what it looks like with the outer water proof flap down and closed. The outer layer is a durable nylon with two nifty reflective stripes. It also has a loop for a rear facing blinking light- which is a very nice touch. Many evenings my ride home requires a blinking light, so both of these features are handy.
The waterproof qualities were utilized today. With sensitive contents in my bag, if it is raining when I leave the office, I am normally scrounging around looking for a plastic bag to put all my valuables. Below is the wet bag.
This was the case today, but voila! Everything is dry! No dodgy bag needed. Now my laptop will fear not the rainy day & will be ready for the next podcast!
The rest of the bag details are sturdy construction that looks to wear well, closures to snug everything up & shrink the bag if needed, adjustable, padded & comfortable straps & 2,000 cubic inches of capacity. The capacity is such that I will likely not exceed it barring the need to carry concrete block samples… for whatever reason.
One thing I noticed, due to the square nature of the top closure, when glancing over the shoulder to check for traffic, the corner of the pack is visible. This is not a huge deal & can be mitigated with strap adjustment, but something that needs to be accounted for. The bag retails for around $90, has a large capacity & high quality construction. All in all a nice bag that has proven to be flexible, serviceable & waterproof.